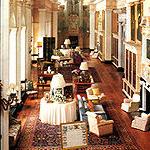 Buckingham Palace
Buckingham Palace has been the official London residence of the Royal family since 1837 and has evolved from a town house to the nation's palace. After the turn of the century remodelling began with the iron railings in 1911 creating the forecourt as part of the Victoria Memorial scheme. In 1913 the soft French stone facade on the front was replaced with Portland stone due to deterioration from London soot. Works finished in 1914 just before the outbreak of War.
Blenheim Palace
The exterior scenes for Buckingham Palace were filmed at Blenheim which wass named after a decisive battle won by the first Duke of Marlborough and the house was designed as a monument to warfare. Queen Anne gave the land and Palace as a gift but the Marlboroughs were forced to continue the construction after her death. The designs were drawn up by Sir John Vanbrugh under the watch of the Duchess Sarah and was completed in 1722.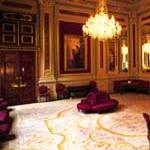 Drapers Hall
The interior scene for the filming were completed at Drapers Hall, Throgmorton Street, London. It is here that Johnnie and Georgie watch their father being photographed with his cousins after the funeral of Edward VIII.