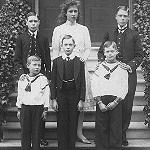 Poliakoff's Princely Plans
The Perfect Strangers writer has looked to the royal family for his latest drama
Geoff Ellis * Radio Times * 18/05/2002
*
Hot on the heels of his award-winning BBC2 drama 'Perfect Strangers', Stephen Poliakoff is examining the little-known story of a member of the royal family in his next major BBC production. 'The Lost Prince' is the story of Prince John, the youngest child of George V and Queen Mary.
"He had epilepsy and autism, and became a forgotten boy," says Poliakoff. "We saw past events through the eyes of a child in 'Perfect Strangers' and in this drama, that happens on an epic scale. It is history seen through a half-open door on the eve of the First World War."
Filming started earlier this month with a cast that includes Gina McKee, John Sessions, Miranda Richardson and Bill Nighy. 'Perfect Strangers'' Matthew Macfadyen and Bafta-winner Michael Gambon also appear.
"I would also have liked to cast Claire Skinner again, but she's pregnant," says the writer and director.
It is the first time Poliakoff has attempted to tell a true story.
"It means I can take a vivid, impressionistic approach to history," he says. "I have taken a bit of licence, but a lot of research has gone into it too. We found an account of Queen Alexandra's birthday party, which told us that all the women smoked incessantly. Although that is a fact, it would not normally be depicted on television - yet it gives us a wonderfully dreamlike visual effect."