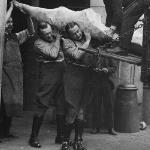 "...if you look carefully, and if you know, then these pictures tell another story."

Veronica's story is the first of two short programmes that followed the 'Shooting the Past' series. The story is of her favourite photograph.

Veronica's favourite photograph is of meat markets around London during World War II. The secret is the ice.