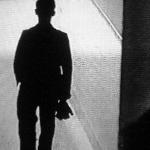 "Or is it just a hoax? A real tease by an old man on his audience?"

Spig's story is the second of two short programmes that followed the 'Shooting the Past' series. The story is of her favourite photograph.

Spig didn't have to think too long about her favourite photograph, it was the best picture she'd ever seen on the subject of fame. It is called 'A Figure Apart' by Holger Larsen.