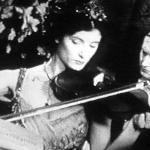 "Are you musical at all?"

With Oswald in hospital Marilyn has to piece together a story they already knew about and its connection with Mr Anderson. Oswald has worked it out from seeing a photo of Mr Anderson's mother and left a number of clues including the scribbled word 'Gadarene', but Anderson is very skeptical.

Before the first World War there were groups of musicians who played a parties like now. There was one rather charismatic group called the Minotaur Orchestra. Mr Anderson's grandmother Hettie must have met them when they played at a party she attended in Cork. She joined them as a full member.