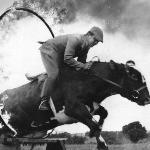 "You have reached the Bates residence...Mr Oswald Bates that is...not Mr Norman Bates for all those callers who may be familiar with the works of Mr Alfred Hitchcock."
Oswald is dedicated to the Photo Archive and has the talent of remembering most of the images along with their stories. His ability to make connections between things makes him the most important member of staff. However, when he sees the changes that are about to happen he attempts suicide leaving the rest of the staff to work out what he had found.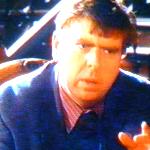 Timothy Spall has worked on nearly 50 projects from 'Quadrophenia' to 'Chicken Run'. His most notable performances being in 'Secrets and Lies' and 'Topsy-Turvy'. His ability to excel in both drama and comedy has made him a favourite with directors Mike Leigh and Stephen Poliakoff (he also appeared as the peculiar Irving in Poliakoff's 'Perfect Strangers'). For his role in 'Shooting the Past' Timothy Spall was nominated for a BAFTA.