"I mean, I come to this city - to these buildings here, this weird library - that oughtn't to be here any more - and suddenly, out of nowhere, bang! I have a whole new history."
Mr Anderson is opening the American School of Business for the 21st century within the building that houses the Photo Archive, endangering the entire collection. Marilyn makes it her mission to enlighten his opinions of them, while Oswald has less subtle ways of bringing him round.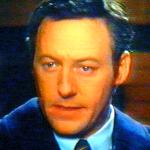 Liam Cunningham began acting relatively late but has since received critical acclaim for his performances in productions such as 'Falling for a Dancer' and 'A Likeness in Stone'. For his role in 'A Love Divided' he won the Best Actor award at the Festival of Irish & British Film.