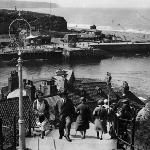 Victorian Yorkshire Coast
Novel
North York Moors Railway - Pickering to Grosmont line that Randolph and Christabel took as part of their journey north.
"An observer might have speculated for some time as to whether they were travelling together or seperately, for their eyes rarely met, and when they did, remained guarded and expressionless."
~
Scarborough - Randolph and Christabel lodged at the Cliff Hotel owned by Mrs Cammish which was demolished by the time the scholars followed the trail.
"'There' he said. 'The German Sea. Like steel, with life in it.'"
Mrs Gaskell refers to the North sea as the German sea in 'Sylvia's Lover's' also set in Whitby but renamed 'Monkshaven'.
~
Whitby - It is presumed that Ash visited Whitby as he bought his wife Ellen and his lover Christabel a piece of carved Whitby Jet each.
"I love a paradox and so I send; White Yorkshire roses carved in sombre jet..."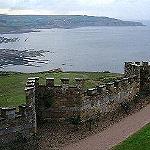 Film
North York Moors Railway - The steam train follows the same Pickering to Grosmont line and was used for this production.
~
Whitby - Straight after Lincoln filming took place in Whitby focusing on the 199 steps leading up to St Mary's Church. The East Cliff (older part of the town) was turned into a market. Link to Northern Echo article.
~
Raven Hall Hotel, Ravenscar - Filming took place on the exterior with horses and carriages pulling up to the entrance. Link to Scarborough Evening News article.