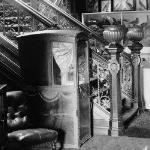 Victorian Lincolnshire
Novel
Seal Court, Croysent le Wold - Set deep in the Lincolnshire wolds, the home of the Sophie Bailey, sister of Christabel LaMotte. Christabel retired to Seal Court in her old age leaving a clue to her secrets hidden in her room.
"A carpet of treetops, not homogenous, and a glimpse of battlements, a round turret, another turn, and a sort of keep, perhaps."
~
St. Ethelreda's Church - Resting place of Christabel LaMotte.
"'The Baileys are in the Church' said Maud 'But Christabel's out on the edge, in the wind and the rain, where she wanted to be.'"
Alfred, Lord Tennyson grew up in the Lincolnshire wolds, A.S Byatt has produced studies of his work.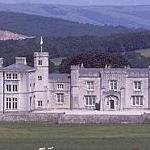 Film
Leighton Hall, Lancashire - A fortified Manor House has been on the site since 1246, rebuilt in the Adam style in 1763. The interior is decorated in the Gothic style. Link to report.
~
Stonor Park, Oxfordshire - Originating from the 12th century with Tudor and Georgian features. The Catholic chapel is situated near the site of a pre-historic stone circle. Link to their website.