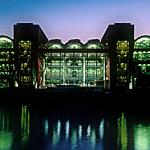 Modern Lincoln
Novel
Lincoln University - Working place of Maud Bailey while she is studying the works of Christabel LaMotte. The works along with the diary of Blanche Glover are housed in the Women's Resource Centre at nearby Lincoln Library.
"Lincoln University was white-tiled towers, variegated with violet tiles and orange tiles and from time to time acid-green tiles."
~
Maud's House - A Georgian house set on the outskirts of Lincoln.
"Maud's living room was not what might have been expected of a Victorian scholar. It was bright white...things in this room were brilliantly coloured in every colour..."
~
White Hart Inn - Meeting place of Maud and Roland with Val, Euan MacIntyre and Toby Byng.
"They went into the bar in the White Hart that evening with some apprehension."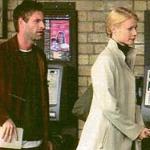 Film
Lincoln University - Not built until after the novel was published, Lincoln university was used as the location for its fictional counterpart. Filming took place within the library and Atrium.
~
Lincoln Station - Lincoln's Victorian station appears both in the novel and the film and was used for Roland's arrival and first meeting with Maud. Link to article.
~
James Street - location of Maud's house in the Bailgate near Lincoln Cathedral.
~
White Hart - Set in Lincoln's Bailgate area, the White Hart's restaurant was used for filming (though this does not appear in the film)
~
Adam & Eve - A locally famous pub was used for a more personal scene between Maud and Roland (though this does not appear in the film).
Threatened with closure, A.S Byatt showed her support for 'The Adam & Eve' in their campaign. Link to Lincolnshire Echo article.