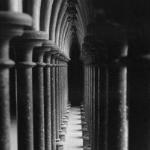 French Coast
Novel
Fouesnant - Christabel flees to Brittany after the suicide of Blanche and to hide her secret from Randolph. She sought refuge at the home of her cousins, Raoul and Sabine de Kercoz.
"When she was down the steps, she stumbled and fell, into my father's arms. She said, in Breton, 'Sanctuary'."
~
Fouesnant - The scholars recklessly depart to France to meet Ariane Le Minier who shares with them Sabine's diary only to be followed by Cropper, Blackadder and Leonora Stern.
"The sea wove amber-sandy lights in its grey-green. The air was milk-warm, and smelled of salt, and warm sand, and distant sharp leaves, heather or juniper or pine."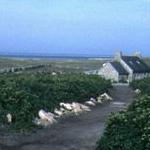 Film
University of Caen - University where the modern scholars investigate Sabine's diary.
~
There have been no reports of filming in the area, however the role of Sabine has been cast so filming must have taken place. If you know of any please contact me.