Genealogy in Art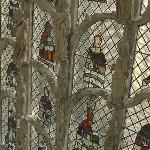 Jesse Window, Dorchester Abbey
The famous Jesse Window was made in the 14th century it is important because it combines tracery, sculpture and stained glass. It depicts Christ's ancestry, showing he was descended from Jesse, along with King David. Pevsner described it as
"by a designer of great originality whose use of sculpture combined with tracery is without parallel on this scale not only in England but in Europe."
Jesse is depicted as quietly slumbering in a corner.
The Capel Family
Many portraits of families exist but one of the finest if the portrait of the Capel family painted circa 1640. Arthur Capel was an ardent Royalist and was executed for his politics in 1649. The family had a great interested in horticulture (there gardens are shown in the portrait) and established a garden at Kew.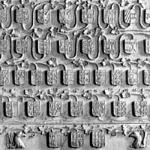 Carved Overmantel, Boughton House
The ornate overmantel in the Little Hall at Boughton depicts the Montagu family tree as far back as William the Conqueror. It was commissioned by Ralph, the first Duke of Montagu to prove his lineage. It records his two marriages in 1673 and 1692.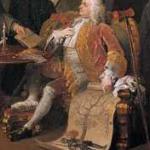 Marriage a la Mode
This painting is the first in the series by William Hogarth painted in 1743. Hogarth mimicked the process by which marriages were sought between the children of poor Aristocrats and rich Merchants. The detail shows how the Earl of Squander is trying to explain how his family can be traced back to Richard the Lionheart.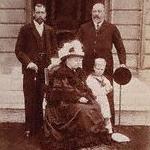 Four Generations
The photograph shows four generations of the British Monarchy in 1899. On the left is Prince George (later George V), seated is Queen Victoria, at the back is the Prince of Wales (later Edward VII) and the young child is Prince Edward (later Edward VIII). Queen Victoria wrote to her daughter
"it seems that it has never happened in this Country that there should be three direct Heirs as well as the Sovereign alive."
The photograph was taken at Osborne House on the Isle of Wight. Stephen Poliakoff's latest project is based on the life of George V's youngest son, Prince John.