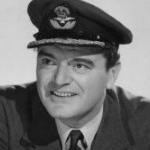 Raymond's Favourite Film...
Angels One Five
"Jack Hawkins - as long as it's got Jack Hawkins."
'Angels One Five' was made in 1953 and nominated for a BAFTA for 'Best British Film'. Starring Jack Hawkins, John Gregson, Dulcie Gray and Michael Denison it was highly rated at the time though now seems a cliche of the Wartime genre. It follows the trials of a trainee Spitfire pilot during the Battle of Britain. If nothing else it is notable for its use of proper British nicknames such as Septic, Tiger, Bonzo and Batchy!
<>
Follow the link to the 'Angels One Five' entry on the Internet Movie database.