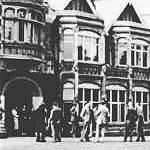 In 1938 with the threat of war the Government's Code and Cipher School relocated from their London home to Bletchley Park. Bletchley was suitable as it was located on the junction of road and rail networks and the mean distance between London, Cambridge and Oxford.

In 1939 under the pretence of 'Captain Ridley's Shooting Party' a small team of mathematicians, scholars and codebreakers descended upon the Park to set up Station X.

Their ambition was to break the impenetrable German Enigma Cipher and therefore give Allied forces the advantage.

At its height over 10,000 people worked at the Park (or Ultra as it was named by Churchill) the vast majority were women. As the house was unable to cope with this number of people temporary huts were constructed within the grounds.

Workers were accommodated with families, in hotels and public houses in almost every town and village within a 20 mile radius. They worked around the clock in three shifts. Buses and wagons transported them between their billets and the Park. Many travelled by bicycle, and cycle sheds can still be seen all over the Park.

By 1946 any evidence of their occupation was destroyed.