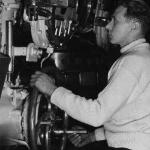 "The Battle of the Atlantic was the only thing that really frightened me" Winston Churchill.
The Germans recognised that submarines offered their only effective action at sea. Against the 22 Battleships and 83 Cruisers of the British and French navies, the Germans had only 3 small Battleships and 8 Cruisers.
Under Admiral Karl Donitz the submarine army expanded and took a great number of Allied shipping. He quickly developed the 'Wolf Pack' technique of collecting together U-boats and picking out Merchant ships to reduce the number of imports and isolate Britain. In the beginning of 1942 2.6 million tons of Allied shipping was sunk.
However, with new radars to detect submarines and the intelligence gathered at Bletchley Park escort groups were organised to accompany convoys and fight off submarines.