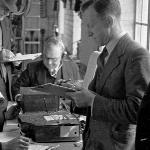 "Skynner liked to think of himself as locked in a personal battle with the wily Hun."
Skynner is Head of the Naval Section at Bletchley Park and opposed to the return of Jericho. His misgivings of Jericho are outweighed by the desperate need to impress the US Navy.
Robert Pugh has starred in over 40 film and television productions including 'The Tichborne Claimant', The Lakes' and 'In a Land of Plenty'.