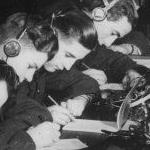 "'Pukowski' said the young man, in perfect English. 'I'm a beastly Pole.'"
Pukowski was part of the original Polish Cipher School that broke into the Enigma code and developed the technology. His escape to England is part of Bletchley folklore, but the loss of his brother is something more secret.
In Robert Harris' novel Pukowski's first name is Joseph, whilst in the film this is the name given to his brother.
Danish actor and writer Nikolaj Coster-Waldau has starred in 'Vildspor', 'Misery Harbour' and Ridley Scott's latest 'Black Hawk Down'.