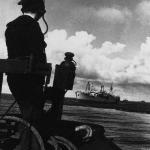 "'-Merchant shipping, pardon me, one million tons of merchant shipping, with ten thousand people on board, including various ladies of the American Red Cross and assorted Catholic Biblebashers, is steaming towards forty-six U-boats and you have no idea where those U-boats are?'"
As Hut 8 is responsible for the Naval Section, the involvement of the Navy was inevitable when the Weather Code Book is changed and the Cryptanalysts cannot get into Shark. On departure the US Navy leave Lieutenant Kramer and the Royal Navy leave Lieutenant Cave as liaison. The latter being part of the crew that captured the Weather and Short Signal Code Books.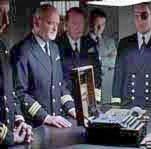 Corin Redgrave has starred in nearly 50 film and television productions as well as having a successful stage career, spanning five decades. His films have included 'Oh! What a Lovely War', 'Four Weddings & a Funeral' and 'Shackleton'. He also appeared in the recent version of 'The Forsyte Saga'.
Matthew Macfadyen has starred in a few television dramas including 'Wuthering Heights' and the critically acclaimed 'Warriors' (for which he was nominated for a Royal Television Society award). More recently he starred as Daniel in Stephen Poliakoff's 'Perfect Strangers'.