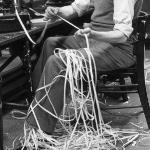 "Poor Logie was peering inside his tobacco pouch as if he wished he could climb in and never come out."
Guy Logie is the Head of Hut 8 and Jericho's allie against the Head of the Naval section, Skynner. Logie was one of the original crowd who began work at Station X with Jericho. He fetches Tom back from Cambridge to help the hut get back into Shark and help the Convoys in the North Atlantic.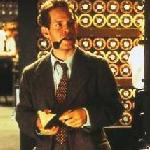 After graduating from Cambridge Tom Hollander has worked on stage and screen. His varied career spans from comedy with 'Bedrooms and Hallways' and 'Maybe Baby' to period drama in 'Wives & Daughters' and 'Nicholas Nickleby'. Tom Hollander can also be seen in the recent 'Gosford Park', 'Possession' and the forthcoming 'The Lost Prince'.