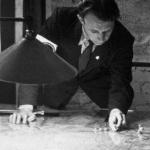 "His brain was beyond tiredness. It ached physically, like an overworked muscle."
Jericho is a ghost of a man when he returns to Bletchley Park to help Hut 8 get back into the Shark code. Mathematician, genius and part of the original Cryptanalysts who set up Station X. His presence is resented by Skynner but praised by Logie. On discovering his former love is missing and possibly a traitor, Jericho becomes involved in a daring game of espionage and lies.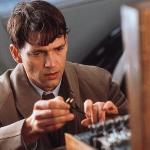 Scott began his career in theatre, moving into television to star in 'Soldier. Soldier' and later an adaptation of Iain Banks' 'The Crow Road'. Since then his film career has lifted with 'Regeneration', 'This Year's Love' and 'Mission: Impossible II'. Dougray Scott can be seen in the forthcoming 'Ripley's Game' and 'Cromwell & Fairfax'.